Happy New Year!
 
I hope 2016 was very good to you and your shop.  Best of luck for a fantastic 2017! 
 
Things are shaping up to be interesting this year.  Rates are on the rise, the regulatory environment is uncertain, inventory is still tight, millennials are slowly moving out of rentals and their parents' basement and we all have new goals to meet.  For deeper discussions on these topics and many others, consider getting involved more in the WMBA in 2017.  There is always room on our single family production committee where lively conversation is delivered in spades.  Maybe you would like to join our newly reformed membership committee to help find ways to bring in new members?  Our legislative committee helps shape policy and makes recommendations on important regulatory issues.  Are you in into fun and golf and would like to help Matt Pierce plan our 2017 golf outing?  The more you put in to this organization the more you will get out.  Let me know if you have questions on how to get more involved.  I would love to help you find a spot that makes sense for you.
 
The Madison chapter has two events coming up.  Try to attend their holiday party on January 19th and then join them on February 15th for a lender's down payment assistance training seminar.  Looking out a bit on the calendar, our 43rd annual real estate conference will be held on April 6th and 7th.  The agenda is shaping up nicely with a prominent Wisconsin legislator, a speaker from the Chicago Federal Reserve and a vivacious, entertaining and educational final sales speaker that is sure to get you excited for the spring selling season.  Registration will open by the end of January.
 
Let's have a GREAT year in our shops and with the WMBA!
 
Warmest greetings in this cold weather and best wishes for the New Year.

Legislative Update - George Klaetsch
ASSEMBLY COMMITTEE LEADERSHIP ANNOUNCED
Two New Representatives to Lead Assembly Financial Institutions Committee
On December 7, Speaker Robin Vos announced committee chairmanships and vice-chairs for over 40 committees that will oversee all legislative proposals considered by the Assembly during the 2017-18 legislative cycle. 
Of specific interest to the WMBA, Speaker Vos announced that Represenative Terry Katsma of Oostburg will Chair the Assembly Financial Institutions Committee and Representative Adam Jarchow of Balsam Lake will serve as Vice-Chair. 
Most WMBA members are familiar with Rep. Katsma who was a 33-year employee of a community bank in Sheboygan County and more recently the author of Assembly Bill 720 - Mortgage Foreclosure Reform that successfully passed into state law last legislative session.
Representative Jarchow previously served as a member of the Assembly Financial Institutions Committee during the 2015-16 legislative session and will assume the role of Vice-Chair.  Jarchow was first elected to the Assembly in 2014 representing the 28th District that borders Minneapolis to the northeast.
The WMBA and its leadership look forward to working with Katsma, Jarchow and the remainder of committee members upon their appointment.
THANKS AGAIN!
I want to recognize all of the WMBA members who contributed their personal financial resources to the WMBA PAC and Conduit during the 2016 Election Cycle while ensuring the Wisconsin Mortgage Bankers Association is stronger and better positioned in working with our state elected officials in Madison. Thank you to all of them!!!
If you would like to contribute to or learn more about the WMBA PAC and Conduit, please go to
www.wimba.org/Political
.  
Return to Top
---

Upcoming State Events:

Save the Date!
43rd Annual WMBA Real Estate Finance Conference

April 6-7, 2017
Potawatomi Hotel, Milwaukee
 

44th Annual WMBA Real Estate Finance Conference

April 16-17, 2018
Hyatt Regency Hotel, Milwaukee
 
Madison Chapter
January 19, 2017

4:30-7:30 pm
Breakwater (formerly Bourbon Street)
6308 Metropolitan Place
Monona

 
February 15, 2017

Two sessions to choose from!
Morning: 8:30-11:30 am   /   Afternoon: 12:30-3:30 pm
Dane County UW Extension Offices
5201 Fen Oak Drive
Madison

 
Milwaukee
Northeast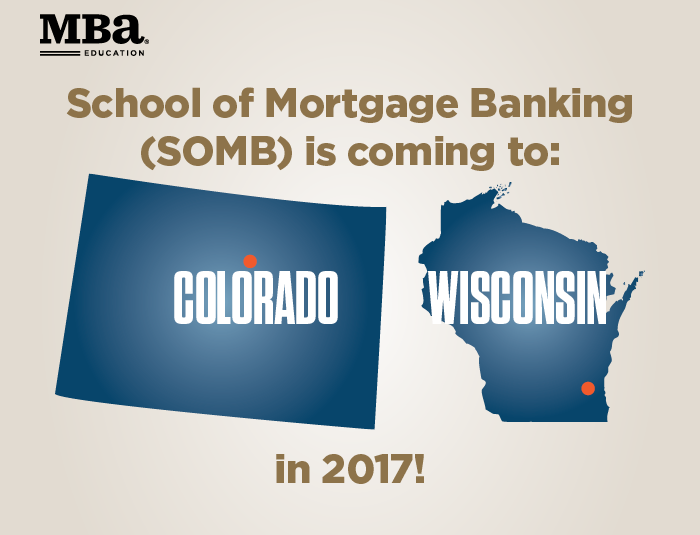 SOMB, Course I gives you the power to be a more knowledgeable and productive team player.
Course Dates:
April 18-21, 2017 | Denver, Colorado
May 16-19, 2017 | Pewaukee, Wisconsin
Lessons You Will Learn:
Day 1: Introduction to Mortgage Banking, Ethics, Regulatory Compliance, Mortgage Law
Day 2: Loan Products, Loan Production
Day 3: Fraud & Quality Assurance, Loan Administration, Case Studies
Day 4: Secondary Marketing, Warehouse Lending, Commercial Lending
Who Should Attend:
SOMB I is designed for residential mortgage executives, management, loan originators, processors, underwriters, servicers and compliance professionals.
Click here to Register!
Return to Top
---
 
The WMBA and the MBA have teamed up to bring you great access to the education components you need to stay current in the Mortgage Banking Business.

For every product purchased through the WIMBA-MBA store the WMBA receives a % back.  

Please use the link below to help support our Association!

Wisconsin Mortgage Bankers Online Store

Remember to check back often!