Greeting WMBA members!
As I ponder the holiday season and see all the hustle and bustle of shopping and what not, it occurred to me that we, the mortgage industry, make that all possible.  According to Maslow's hierarchy of needs, one needs safety, which includes a roof over ones head prior to moving up the pyramid towards esteem and self-actualization.  Without the security our industry provides for homeowners, none of the holiday excitement, fun and frivolity would exist.  So…..On behalf of the citizens and businesses  in United States of America, Thank you to the WMBA and the mortgage industry for making this season possible!  
Please take some time to check out the WMBA website at
wimba.org
.  You will find all the upcoming statewide and chapter events listed as well as links to all our social media services.  Check out our newest channel on
Instagram
listed on the top right of our website.  Feel free to post some fun or informative pictures or posts on any of our social media platforms.  
I would like to take a moment to thank the Legislative Committee for taking the statewide lead along with the realtors association in helping craft legislation that works for all parties related to appraisal management companies doing business in the State of Wisconsin.  More to come on this later as the final details are being worked out but suffice it to say Ken Dickson, Scott Fletcher, Jan Brezina, Steve Hansen, John Inzeo, Jerry Warmus and Julio Rios have hours and hours of their time invested in this important project.  Thank you!  
The Milwaukee Chapter is holding its annual holiday party on December 14
th
at Albanese's this year.  Please
check it out
and sign up to attend.  It is always a good time to raise a glass with your industry peers and catch up on a great year!  
The speaker lineup for the 43
rd
Annual WMBA Real Estate Finance Conference is coming together and it looks to be an incredibly informative and entertaining group.  Save the date of April 6-7 in your calendar.  
Take time to reflect on 2016 and its many lessons learned.  Enjoy the holiday season with friends and family and all the best in 2017.

Legislative Update - George Klaetsch
WMBA PAC & Conduit Contribution Recap
As mentioned in the October WMBA Brief Legislative Update, I wanted to share with all WMBA members the important election races the WMBA participated in and the WMBA members who were active in the WMBA PAC and Conduit.  
The 2016 Election Cycle was one of the most unpredictable elections of our lifetime and as the primary focus was intense for the Presidential and Wisconsin's U.S. Senate race, I was working diligently with select members of the WMBA in ensuring the mortgage lending industry's political involvement programs were ensuring state legislative electoral success.  
The following are 2016 Election Cycle races the Wisconsin Mortgage Bankers Association PAC and Conduit participated in and if that candidate or campaign committee was victorious on November 8.  
Mary Czaja for Assembly                                          (Win)
Shilling for Senate                                                     (Win)
Taxpayers for Nygren                                                (Win)
Republican Assembly Campaign Committee            (N/A)
Amy Loudenbeck for Assembly                                (Win)
Citizens for Tiffany                                                    (Win)
Committee to Elect Republican Senate                      (Win)
Quinn for Assembly                                                   (Win)
Joel Kitchens for Assembly                                       (Win)
Adam Jarchow for Assembly                                     (Win)
Feyen for Senate                                                        (Win)
Friends of Mike Kuglitsch                                         (Win)
Friends of Leah Vukmir                                             (Win)
Friends of Julie Lassa                                                (Loss)
Friends of Jessie Rodriguez                                       (Win)
Friends of Terry Katsma                                            (Win)
The Republican Party of Wisconsin                           (N/A)
Taxpayers for Markein                                               (N/A)
Born for Assembly                                                     (Win)
Duey for Senate                                                          (Win)
Friends and Neighbors of Tom Weatherston              (Win)
Friends of Dave Craig                                                (Win)
Jagler for Assembly                                                    (Win)
Sanfelippo for Assembly                                            (Win)
Jason for the 11th Assembly                                       (Win)
Friends of Eric Genrich                                              (Win)
Scott Fitzgerald for Senate                                         (Win)
I also want to recognize all of the WMBA members who contributed their personal financial resources to the WMBA PAC and Conduit during the 2016 Election Cycle while ensuring the Wisconsin Mortgage Bankers Association is stronger and better positioned in working with our state elected officials in Madison. Thank you to all of them!!!  
If you would like to contribute to or learn more about the WMBA PAC and Conduit, please go to
www.wimba.org/Political
.  
Return to Top
---

Upcoming State Events:

Save the Date!
43rd Annual WMBA Real Estate Finance Conference

April 6-7, 2017
Potawatomi Hotel, Milwaukee
 

44th Annual WMBA Real Estate Finance Conference

April 16-17, 2018
Hyatt Regency Hotel, Milwaukee
 
Madison Chapter
Milwaukee
Decemeber 14, 2016

5:30-9:00 pm
Albanese's Roadhouse - NEW LOCATION!
2301 W Bluemound Rd.
Waukesha
262-785-1930

 
Northeast
MBA Offers Recommendations to FHA Condominium Programs
November 29, 2016
The Mortgage Bankers Association, in a letter yesterday to HUD, offered a series of recommendations to the department's proposed revisions to the FHA condominium programs.
The program enables FHA-approved lenders to extend insured mortgage financing to one-family units in multifamily projects as affordable options for first time- and low-to-moderate income homebuyers.
"MBA supports FHA's efforts to promote safe and sustainable financing for condominium loans and to increase the efficiency of current processes, such as the streamlining of private transfer fees and the expansion of the condominium project recertification period," wrote MBA Senior Vice President for Public Policy and Industry Relations Stephen O'Connor. "MBA supports the intent of FHA's proposed rule on condominiums to ensure financial soundness and project viability while maintaining flexibility to retain the ability to be responsive to the changing market."
MBA worked with a cross-section of diverse lenders to identify the following recommendations to further improve FHA's condominium program. "Enhancing this important program will encourage more lenders to participate in FHA condominium lending and will ensure direct benefits to first-time and low-to-moderate income homebuyers," O'Connor said.
---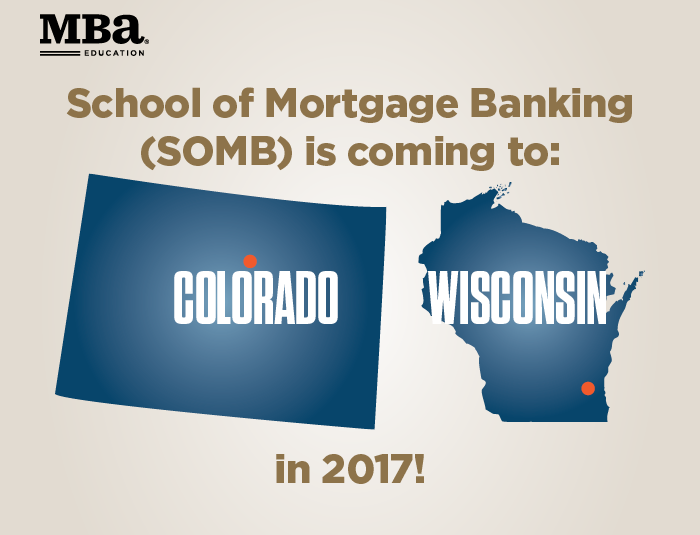 SOMB, Course I gives you the power to be a more knowledgeable and productive team player.
Course Dates:
April 18-21, 2017 | Denver, Colorado
May 16-19, 2017 | Pewaukee, Wisconsin
Lessons You Will Learn:
Day 1: Introduction to Mortgage Banking, Ethics, Regulatory Compliance, Mortgage Law
Day 2: Loan Products, Loan Production
Day 3: Fraud & Quality Assurance, Loan Administration, Case Studies
Day 4: Secondary Marketing, Warehouse Lending, Commercial Lending
Who Should Attend:
SOMB I is designed for residential mortgage executives, management, loan originators, processors, underwriters, servicers and compliance professionals.
Click here to Register!
Return to Top
---
 
The WMBA and the MBA have teamed up to bring you great access to the education components you need to stay current in the Mortgage Banking Business.

For every product purchased through the WIMBA-MBA store the WMBA receives a % back.  

Please use the link below to help support our Association!

Wisconsin Mortgage Bankers Online Store

Remember to check back often!